Windows are a key element in any home – every house has them. Depending on how you dress them they can be a design feature in a room, a focal point, an accent, or a contrast. When decorating a room it can be easy to get swept up in choosing the wallpaper, carpets, and furnishings, but you shouldn't overlook the windows. Updating the look of your windows can change the look and feel of a whole room. Windows should not just be seen as purely functional – only there to let light and air in – but as an important contributing factor to the style of the whole room.
Choosing Your Style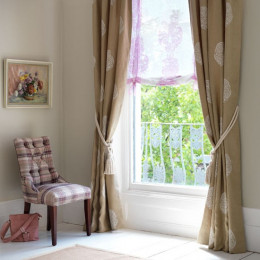 Before wading in and covering your windows with swathes of fabric, you will need to take the time to consider the overall theme and style of the room. There would be no point in adding sleek and streamlined window treatments to a room that has an old-fashioned charm. Equally, hanging fussy or overly decorative window treatments in a modern or minimalistic room can ruin the aesthetic.
As well as thinking about the style of the room you should also bear in mind the functionality you will require from your windows. If you like to have your windows open to let the air in, avoid overly complicated window treatments that will only get in the way.
If the windows face the west (or the south) then you may have to factor in whether you will need your window treatments to block the sun at certain times of the day. Rooms that look out onto a street or a neighbor's garden may need more privacy.
Curtains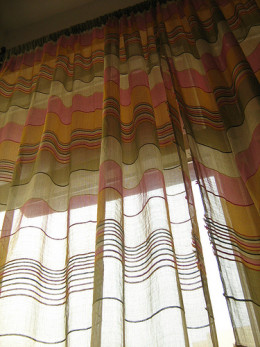 Arguably the most popular form of window treatment is curtains. Changing your curtains can quickly liven up and update a room. Colour and pattern are hugely important. A high-contrast color can work well in modern rooms and patterns can add interest. Textured fabrics can bring a degree of warmth and softness to a room that is primarily furnished with hardwoods. For those with low ceilings, a vertically-striped curtain can help to add height to a room.
Curtains do not have to be full-length, opaque fabrics, more and more suppliers are now offering a variety of styles. A white or sheer curtain can provide privacy during the day but will not block the light out. For a more rustic feel, café-style curtains are also a good choice for those concerned with privacy. A sheer under-curtain in a bright color can add a splash of color to a room without being overwhelming.
Interior Shutters
A form of window treatment that works well in both modern settings and with a rustic style is interior shutters. Wooden shutters can be a durable and low-maintenance option. Plantation shutters with adjustable slats (or 'louvers') can provide privacy while letting in the sunshine and airflow. Similarly, hand-carved shutters let the light filter through an attractive pattern carved into the wood.
You can paint your shutters an accent or contrasting color, or simply leave them as they are, letting the wood finish add a measure of warmth. Shutters come in a variety of styles depending on your needs. Solid shutters can play up the architectural features of a Georgian house, while the café style can provide privacy for street-level rooms without losing the natural light.
Cornices, Valances & Swags
It can be easy to get confused between certain types of window treatments. Valances, cornices, pelmets, swags, and lambrequins do have certain aspects in common, but there are differences between them.
A valance is a fabric window treatment that spans the top of a window horizontally. They can be used to add interest to a window while concealing the window hardware. A valance can be used in conjunction with a cornice to give an old-fashioned style.
Cornices and pelmets are essentially different terms for the same type of window treatment. Like a valance, a cornice spans a window horizontally but is more structured and is usually made of wood such as MDF. Cornices can be upholstered with fabric to match the curtains or blinds.
A lambrequin is very similar to a cornice, in that it is a structured window dressing, but it comes further down the window, usually at the sides.
Swags are simply made of long pieces of hemmed fabric that are wrapped around the curtain poles. This material is then pulled down to form swags.
Choosing one or a combination of these window treatments can help to frame your window. Scalloped valances can bring an old-world charm while a straight cornice can play up the modern feel of a room. A cornice fixed above a window can help to make it seem larger. Adding curves to a window treatment such as a lambrequin or a cornice can soften rooms like kitchens that are usually full of straight lines and boxes.
Window Features
You may, however, want to let the window speak for itself. For modern rooms, painting windows a bright color can really turn them into a focal point. Adding window boxes filled with greenery, flowers, or herbs to the outside of a window can help to improve the view and make nature feel closer. If you want a certain amount of privacy without bulky curtain or shutter options you can add a frosted film.
These are good options if replacing the window pane with frosted glass is too pricy. You can find films that have clear detailing and patterns and you can choose how much of the window you want to cover. It can be a useful option for renters as the film can be removed quickly and cleanly. For a slightly more ostentatious (and expensive) look you could replace the panes of smaller or side windows with stained or etched glass.
Don't Forget The Accessories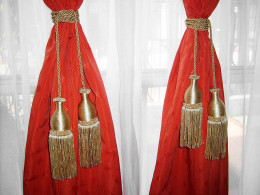 Finally, if you want to update the look of your windows, you should not forget the detailing. Simply replacing the catches and handles of a window can give them a new lease on life. Exchanging old window catches for brushed metal ones can help to modernize a window. Alternately, if you are going for a more classic look, antique-style handles can help the window to stay in keeping with the décor.
A lick of paint on the windows will also help to freshen them up! Curtain ties do not just have to be strips of fabric; strings of beads or antique doorknobs can give a unique feel, while tasseled rope tiebacks provide a more opulent look. Taking the time to decorate your windows can really help to complete the look of a room and can put new life into your house.